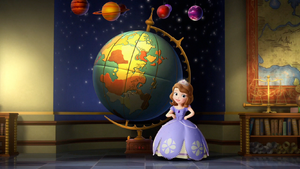 The EverRealm is the term given to the world in which Princess Sofia lives[1] (and by extension Princess Elena).[2][3]
There is relative ease of travel between the two realms, as relatives can live in both, such as Button and her cousin, Brick.[4] Non-winged beings from the Mystic Isles only need a winged unicorn to cross over. The most common entry point from the Mystic Isles to the EverRealm is through the kingdom of Enchancia.
Another world beyond the EverRealm, is NeverLand.[5]
There are Seventeen Seas in the EverRealm.[6][7][8]
Notes/trivia
In the real-world, there are seven seas.
The introduction of the term seems to be of surprise to Sofia, as if it's exclusive to the citizens of Mystic Isles, but was quickly retconned to be known apparently by everyone, so much so that there is an EverRealm Academy. The term also crossed into Elena of Avalor.
References