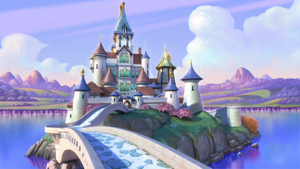 Enchancia Castle[1][2] is where the royal family of the kingdom of Enchancia live. It is presided over by King Roland II and his second wife, Queen Miranda. Princess Amber, and Prince James have lived there since birth, and Princess Sofia has lived there since her mother married Roland.[3]
Staff
Former staff:
Stable
History
Early history
The castle was old with many secrets, one of them being that Sofia's bedroom, originally Duchess Matilda's room, had a tiny hole leading to a river boat ride to the Secret Library, which contained unfinished books of lives that needed helping.[11]
Appearances
Total appearances: 69.
Notes/trivia
References